10th Hole, Real Club de Golf Guadalmina, Malaga, Spain, 25/June/2019
Ok, we still don't know the rules of the golf, but this project didn't care much for them anyway. This was a genuine Guinness World Records™ record attempt to get the "The Fastest Hole Of Golf by An Individual" player. We provided monitoring equipment and know-how to get the best data. The rules of the attempt are strict: any number of shots can be made but the same player must make take all the shots in any one attempt. Since the current record is one minute 33 seconds and there are 500 yards to cover from tee to pin means only one thing: RUN!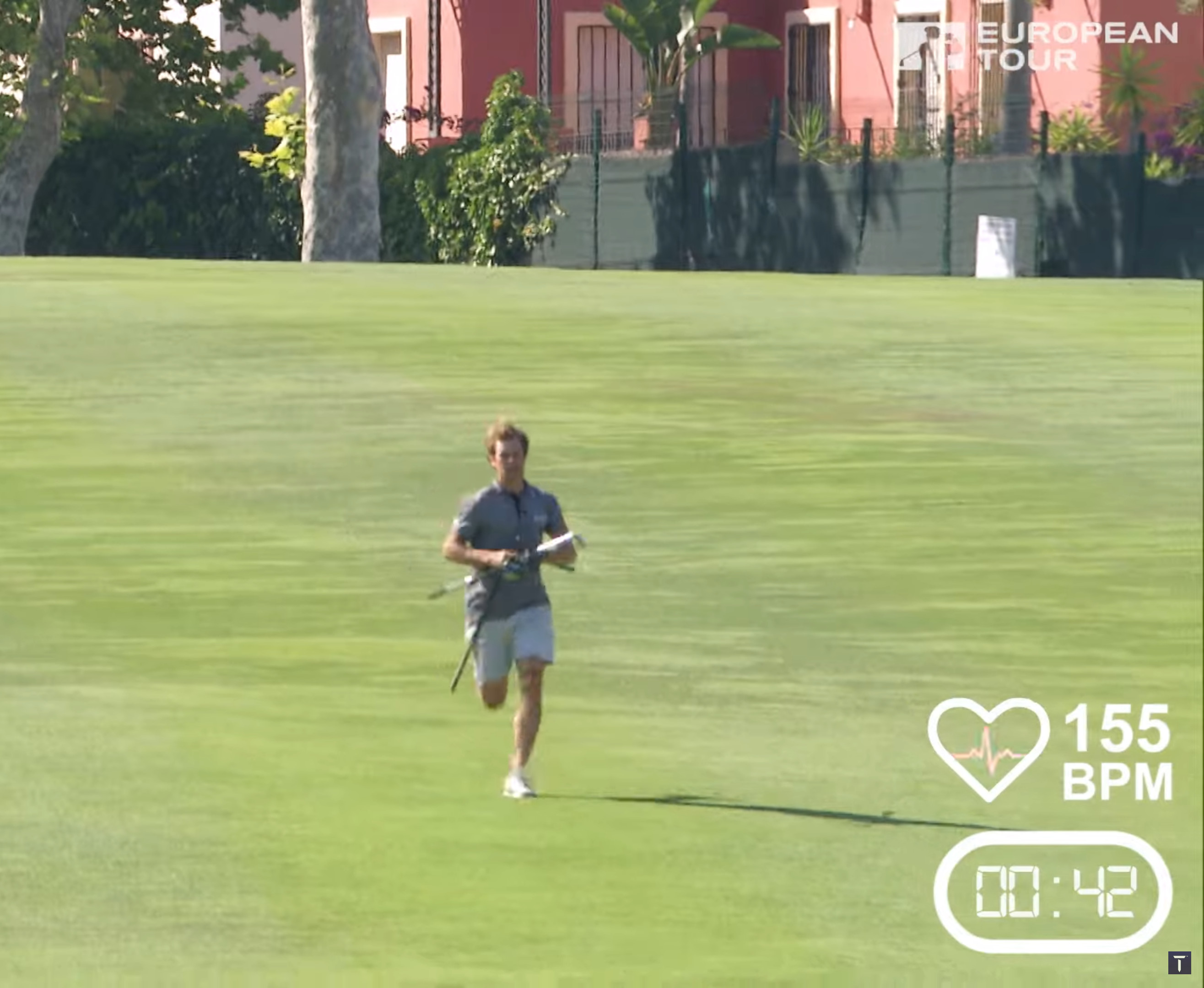 First up was Guido Migliozzi. He set a great pace at the start but started to flag; his heart rate hitting 165 beats per minute (bpm) before he called off his attempt – not because he couldn't go on but because he hooked (or possible sliced!) the ball into the rough. Giving up at 50 seconds he said "I don't run since I was ten years old"!
Next up: Sean Crocker, a very confident start "I'm going to sprint this" and just like Guido thought the task more about the running than the golf: "I don't think I might have run this much in forever"! After a brilliant first shot and a very fast run and a heart rate of 143 he tells us "I can't feel my arms" which seems odd! By the end his heart rate hit 206. No record though, taking 1m 41s.
Third up: Paul Dunne. He took it very seriously and hit a perfect drive. "Run Forrest, Run [in translation]". With a heart rate up to 181 he had the pace and holed it in 1:31. A record? No, he had fouled the ball when throwing his clubs down resulting in a disqualified attempt!
Finally: Thomas Detry. "I'm nervous… I am nervous". With a heart rate of up to 188 he got close to the green quickly and it even looked like he had it but he just missed and needed a second final putt. He did however still do it in a mere 1m 29s and is now judged by Guinness to be "Officially Amazing"!