Pilot-MUX
Racing Driver Vital Signs Monitoring
Description
Motorsport Driver Monitoring
Pilot-MUX is our flagship driver physiological monitoring system that is in use in open and closed wheel racing as well as other sports. The system is designed to be adaptable, expandable and configurable to allow highly specific applications. For a low cost alternative the Pilot-OVR is also an option.
Kit Contents
The Pilot-MUX is delivered ready to be fitted to the car abd comes as a robust match-box sized device fitted with an Autosport ASL connector.
Downloads:
The Pilot-MUX requires between 5V and 24V power connection and can be run directly off the battery. It interfaces to the car's CAN bus and delivers driver data direct to the bus. All sensors, data rates and messages can be changed using a small but powerful Windows application; as supplied, or when reconfigured, the Pilot-MUX requires no user intervention.
Data Channels
IMPORTANT: You must also purchase one or more wearable devices or sensors, Pilot-MUX is best used with the Zephyr BioHarness.
If purchased with a Zephyr BioHarness, the Pilot-MUX will deliver the following channels:
Heart rate
Breathing rate
Body temperature
ECG
Heart rate variability
R-R intervals
Heart measurement confidence
Breathing waveform
Stress index
Energy burn
3-axis g-force
Wireless signal strength
The configuration can be changed to provide more or less information. There are many other sensors that can be integrated, see the Pilot User Guide for more information.
Specifications
The following specifications are representative but approximate since they vary between the specific model variants, connectivity and output rate. Dimensions do not include cable or connector and specifications are approximate and subject to change.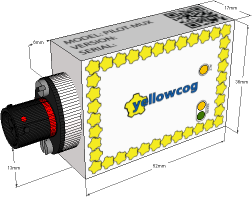 | | |
| --- | --- |
| Dimensions | 52 x 36 x 17mm (2" x 1½" x ¾") |
| Weight | 30 grams (1 ounce) |
| Required Power | 5V to 24V |
| Consumption | 1 Watt, peak |
| Bluetooth | Class 1 (high power, long range) |
| ANT | 2.4GHz wireless sensor support |
| BLE | BLE is an optional extra |
| RS-232 Output | EIA/TIA-232E, up to 115kbaud |
| CAN Output | 2.0B, ISO 11898, up to 1MHz |
| Pilot Connector | Autosport ASL006-05PN-HE |
| Customer Cable | Autosport ASL606-05SN-HE |
Units in box: 1