Physiological Monitoring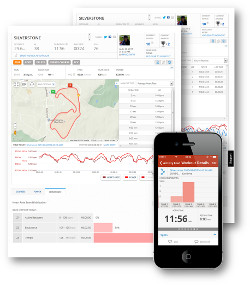 The Pilot™ interface wirelessly collects information from a driver-worn physiological monitor. All driver data is synchronised with the car's giving unparalleled knowledge of man-and-machine.
Information is delivered in real-time to the car's on-board systems. Data is then processed the same as other car parameters and can be logged or sent out over the car's telemetry so it is available at the pit wall at all times. For cars without logging or telemetry, yellowcog has recorders and mobile (cellular) telephony solutions - all designed for motorsport. All the car mounted equipment is powered direct from the car or a supplementary battery meaning that once fitted there is zero maintenance.
Collected parameters include: heart rate, ECG, R-R interval, heart rate variability, breathing rate, core temperature and g-forces. The Pilot™ interface supports a range of fitness and medical grade monitoring devices.
Race Reports
Yellowcog's servers allow data from many different sources to be combined and analysed – either in real-time or from recorded data. The Race Report provides key parameters and statistics summarising the driver's state. Information collected from every training, simulator or race session is delivered in a succinct and intuitive Race Report to provide a complete snapshot of the physiological performance. The reports are cumulative and provide a record of performance change race by race.
Cost Effective and Reliable
The Pilot™ system collects real-time, actionable information on driver physiology while seamlessly fitting in with the existing racing infrastructure; without any conflicting requirements for car designers, teams, drivers, engineers or mechanics. This makes introducing a complete monitoring solution both simple and cost effective.

Information must be accurate, available and reliable. Yellowcog's Pilot™ was designed specifically for motorsport and has been proven in some of the toughest races on the calendar, including the Le Mans 24 Hours, open-wheeled racing and long-distance rallying.
Adaptable and Expandable
Yellowcog's Pilot™ system can be fitted to existing vehicle monitoring systems or supplied as a complete package of driver and vehicle monitoring. By monitoring the driver and vehicle together the quality of both can be improved. Every aspect of the vehicle can be logged or transmitted alongside the driver data.