Details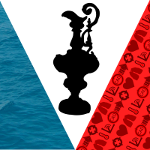 Yellowcog's Pilot™ biometric monitoring systems are to be used throughout the America's Cup event to monitor both crew physiology and the extreme physical workload they are undertaking. The data collected will be distributed as part of live TV broadcasts, highlights and through the America's Cup app.
From the America's Cup yacht crews we will provide heart rate, heart rate variability, breathing, body temperature, g-forces, calorie burn, exertion and stress levels. On the yacht, we will provide data from all of the grinding positions to show how much work is put in.
The America's Cup race will be held in Bermuda and most teams are already there preparing. Emirates Team New Zealand are the one team that have stayed at home and have now revealed why: their hull-mounted bike grinders (possibly now known as "cyclors"!). We've recently added the ability to collect data from up to 15 ANT devices so we're ready for them; eight bikes on their yacht presents no problem.
The system will use a combination of Bluetooth and ANT wireless technologies to simultaneously collect data from all the crew as well as allowing crew changes without needing to reconfigure the system. The data is output via RS-422 to the off-yacht media stream as well as being made available to the teams via a separate CAN bus. Each yacht will have yellowcog's Pilot™ mounted on the aft media post which gives it complete wireless coverage of the entire yacht. The Pilot devices have built in security to ensure that all competitors are given the same Americas Cup Event Authority controlled set-up and that no one gains an unfair advantage. All teams will conform to the terms in AC35 Biometric Data Specification.
Pilot™ was originally designed for motorsport driver monitoring but soon found uses outside of this; from cycling to educational TV programmes. There are many parallels between motorsport and top-tier yachts racing. The yachts run data logging and analysis systems that were also originally designed for motorsport. Systems (like Cosworth's Pi) are used to monitor and control all aspects of the yacht. The pedestals are used to provide hydraulic power to the yacht to move the hydrofoils and sails. The crew operate as "human batteries" providing the power with the on-board systems able to distribute it to where it is needed.
Yellowcog is very proud to have been given this prestigious contract and we are hugely excited that biometric monitoring is coming to the fore in a year when physical fitness, load and performance could make the difference between first and second.
Details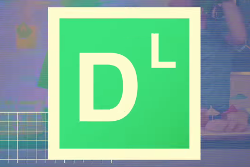 Drugslab is a BNN production investigating the effects of various recreational drugs using yellowcog's kit to see results in real-time. We've always prided ourselves on delivering the unusual – people we know seem to do unusual things – and this is a prime example.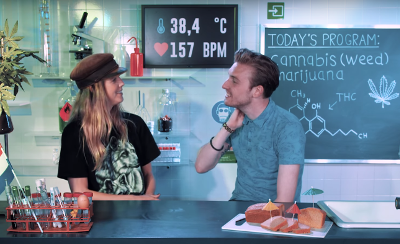 The experiments are simple – each week one of the hosts explains about a drug, talks of the dangers, the dos-and-don'ts, then takes the drug and explains the effects as they happen. We can see an objective view of their physiological reactions in real-time via the yellowcog kit relaying their vital sign data to the TV screen behind them. What we can see is the subject's heart rate and temperature – vital signs that are good indicators of the metabolic changes caused by the drugs.
The experiment wouldn't be allowed in many countries but is being recorded in the Netherlands where they have a different approach to drugs. It is hard to argue that young people shouldn't be made aware of the whole picture surrounding drugs – the more they know, the safer they will be.
I encourage you to watch the shows – the hosts are a delight to watch as they combine lots of fact with just a little mischief. While one is under-the-influence the other takes on the role of a friendly supervisor to question them about the effects, their feelings and changes in perception. The programs are amusing and well produced with a quality feel to every show. There is a new program out every week on Fridays at 17:00 CEST under the Drugslab YouTube channel.
Details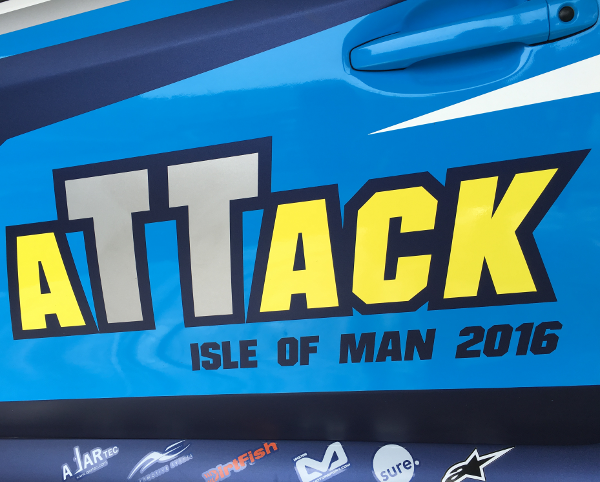 Isle of Man Subaru TT Attack, a return to the island for yellowcog. We were there to lend our expertise in biometric monitoring to Subaru, Prodrive and, of course, Mark Higgins. The purpose was the break the current record for a car on the TT circuit (officially the Snaefell Mountain Course). The first target was the previous car lap record set by Higgins in 2014. The next part was to see where the car could come compared to the bikes.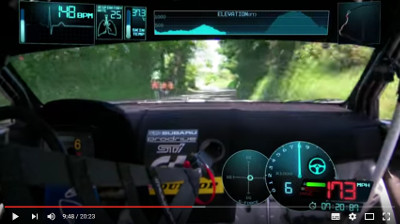 If you've never seen footage of the TT riders in action then following this link right now! Everyone there is there to race yet the atmosphere in the pits is a strange one. On the one hand the atmosphere is very friendly, very relaxed and inclusive. On the other hand is the undertone of danger. Riders die every year. Many died in 2016. Every team, many of which are run by the families, know that as the rider disappears off out of sight there is a very real chance that they will be seriously hurt. Yes, it is dangerous, and whatever the vehicle, it takes guts.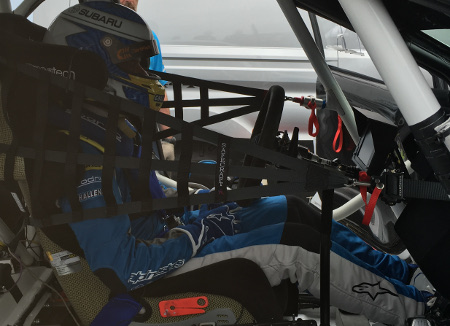 There are obvious pros and cons of car and bike. The TT bikes are very light yet powerful so reach incredible top speeds. Bikes though are limited by tyre surface area, they only have two wheels and the tyres have to be profiled so that the bike can lean in on the corners. This leaves bikes with a very small tyre contact patch. Compare this to the Subaru fitted with four fat racing slicks. The Subaru is of course very powerful too but is also much heavier. All this equates to the bikes being fastest on the straights and the Subaru being fastest on the corners. There are a lot of straights and corners on the TT circuit.
On our previous trip to the island, Mark Higgins completed the circuit in 19m15.88s which gives an average speed of 117.51 mph (189.114km/h). This year the car was much more powerful and now engineered in what we might call Full Rally Spec by Prodrive. All-in-all it is a beast of a car. The plan was to make three or four attempts to beat the 2014 time but also to challenge the various categories of bikes. As always (in our experience) on the Isle of Man, the weather came into play. This scuppered a few of the runs as delays pushed back schedules. The good news was that on Higgins's first full run he smashed his previous time. Then on Saturday he beat that time again clocking in at 17m35.139s which is an average of 128.730mph (207.17km/h). Here's how Higgins compares to the bikes:
| | | | | | |
| --- | --- | --- | --- | --- | --- |
| Class | Machine | Human | Lap Time | Avg mph | Avg km/h |
| Outright | BMW S 1000 RR | Michael Dunlop | 16:53.929 | 133.962 | 215.591 |
| TT Superbike | BMW S 1000 RR | Michael Dunlop | 16:58.254 | 133.393 | 214.675 |
| Superstock TT | BMW S 1000 RR | Ian Hutchinson | 17:00.510 | 133.098 | 214.200 |
| TT Challenge | Subaru WRX STI | Mark Higgins | 17:35.139 | 128.730 | 207.171 |
| Supersport | Honda CBR 600 RR | Michael Dunlop | 17:35.659 | 128.666 | 207.067 |
| Lightweight TT | Kawasaki 650 | James Hillier | 18:43.955 | 120.848 | 194.486 |
| TT Zero | Team Mugen | John McGuinness | 18:58.743 | 119.279 | 191.960 |
| Sidecar TT | LCR Honda 600 | Ben & Tom Birchall | 19:22.928 | 116.798 | 187.968 |
Details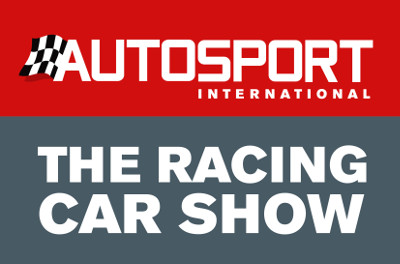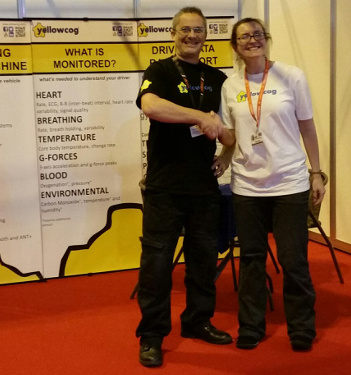 Autosport International was a great start to 2016!
Our stand was well located in the show. We could see across a large area which meant that we too could be seen from far away. As a young company we are not so much advertising via the company name but by what we can do. So we focused on asking if people really "know" their drivers. Few team managers would claim to! That was the message we are trying to get across: there is more to understanding your driver than talking with them about their last race. You need to know if they are physically and mentally pushing themselves. For young drivers this is even more important: dedication to training shows dedication to the track, to the team. We think we did pretty well in getting our products and services across to visitors. It is more than monitoring, it is about understanding and using that information to feed back into the driver and car.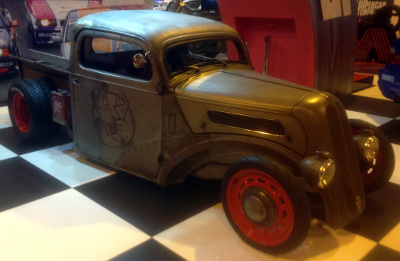 All four of us at times were maxed out with visitors filling our stand, at other times we wondered if anyone would ever stop by again! The show is split into two halves across the four days: trade and public. From our perspective the differences between the halves was minimal. There was so much overlap of trade vs public on Friday and Saturday that we were speaking with new contacts throughout the show.
The most important thing to us is that the industry seems to be switched on to the need for driver monitoring. This needs to be more than just an afterthought of measuring heart rate now and then. It needs a complete picture of drivers from heart rate to body temperature so that teams can start treating the driver as part of the machine.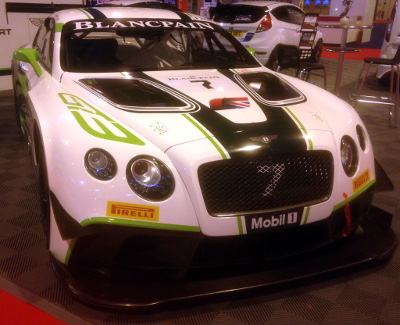 2016 is off to a good start!
Original article from before show: Stand 7158 will be our home at Autosport International 2016 from Thursday 14th to Sunday 17th January, so please come and visit! The show takes place at the NEC in Birmingham (UK) and is the largest European show of its kind. Last year saw over 80,000 visitors across the four days. The show is split into two distinct phases: the first two days (Thursday/Friday) are trade only and include a special engineering exhibition area. Saturday/Sunday are open to all with the weekend hosting a lot of extra events with cars and celebrities from the world of motorsport. Yellowcog will be there for the entire show with our stand dedicated to driver monitoring. We'll be showing the features and benefits of our Pilot™ monitoring system along with how it has already helped our customers gain an advantage over their competitors.
Details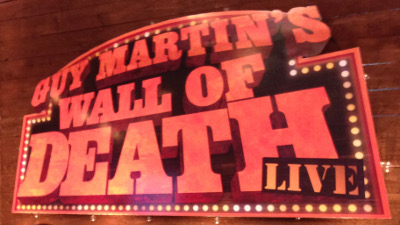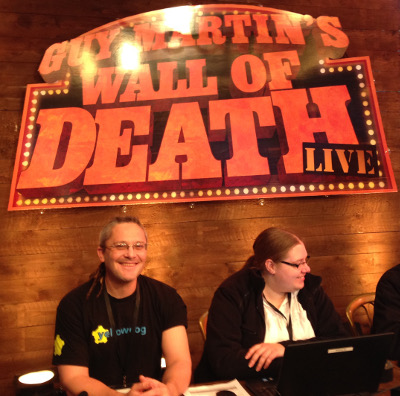 Wall of Death World Record: Guy Martin sets the new world record for the fastest wall of death, clocking a speed of 78.15mph (125.77 kph). The live show was broadcast on Channel 4 on Bank Holiday Monday on 28th March. Yellowcog were there to monitor Guy and the g-forces he was subjected to. If you don't know what a wall of death is then keep reading!
So what is a wall of death? Wiki describes it best but simply put it is a vertical cylinder large enough to ride a motorbike around the interior wall. The bike can ride on the vertical wall due to what we experience as centrifugal force. The reality is that the bike wants to go flying off in the direction it is currently travelling but the wall keeps getting in the way, curving the bike's path around and around. Anything over a few g is enough to stick to the wall. We were taking 100 g-force samples per second so could see how the reality met the physics in this giant science experiment.
The wall was made by upending 47 full-sized shipping containers and arranging them into a circle. The containers were then clad in tons of wood to form a smooth riding surface. In order to get on the wall in the first place there is a 45 degree ramp all the way around. This ramp is used to get up to speed before moving up onto vertical section.
It was a great bit of television, combining fun and danger in equal measures. Guy Martin is always good to listen to, as he calmly describes what he is about to do while everyone else looks on wincing at the thought. We can reveal that Guy Martin's calm exterior is no act. We were able to see his heart rate in real-time and we could see that as he stood waiting to get on his bike before setting off on his first attempt his heart rate was as low as 60 beats per minute! Many people do not have a resting heart rate that low but Guy was on live TV and getting ready to do something that could easily injure him.
Yellowcog were stationed both on the media platform and in the centre of the wall. It was great to be surrounded by Guy's family and friends and to see their reaction each time he went up on the wall. Guy's girlfriend Sharon was excited and nervous in equal measure but after each run Sharon would ask "How fast?" and "What's his heart doing?"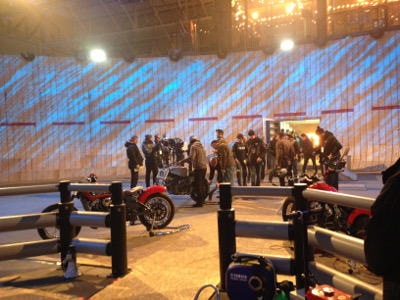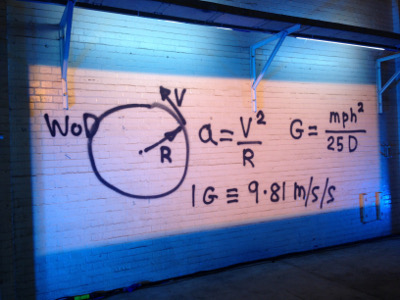 The data we collected (and which was shown on screen) was remarkable – seeing it live with a man on a motorbike whizzing around the wall two foot away brought a sense of urgency to it all too. As expected, Guy's heart rate and breathing increased to match the exertion of riding under such g-loads but we could also see that on each subsequent run on the wall he was relaxing into it and his peaks were reducing – apart from the record breaking run! On the record breaking run the peak while on the wall was as the previous run – but after he began to slow down there was an unexpected but very noticeable increase. Guy knew he had nailed it on the run and the psychological impact was visible physiologically.
The show was produced by North One TV. We have worked with them before (on the Isle of Man TT Challenge) and they brought a level of enthusiasm, teamwork and professionalism that other companies, other industries, would die for. The project itself was huge.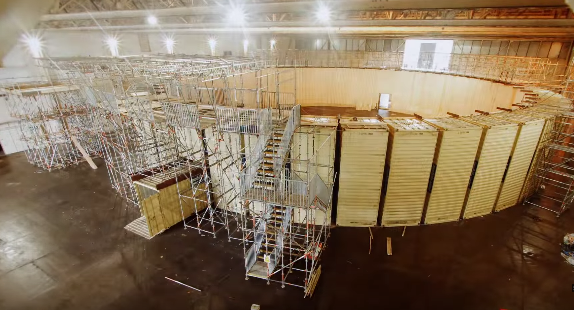 The construction of the wall is the most obvious manifestation but to stage something like this there are so many logistical problems to overcome. I think a good comparison is live sport but there the venues come complete with media areas and facilities; the wall of death however was built in an empty hangar and every single piece of equipment from our small part to the outside broadcast trucks to the lighting rigs and the on-screen talent had to be brought in and combined. The months of preparation finally came together on the day and although people were stressed, the atmosphere was like a festival – lights and sounds and excited people buzzing about! It was an unforgettable experience and yellowcog is proud to have played a part.
Details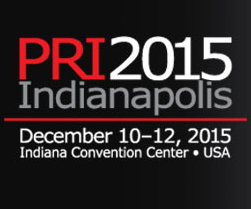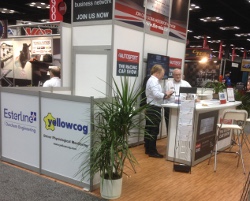 The PRI Trade Show in Indianapolis was a very enjoyable three days. Since we have just become members of the Motorsport industry Association we took the opportunity of joining them on their booth, which we were able to adorn with our own logo and marketing materials. It was a nice feeling walking up to the stand for the first time. We've seen our logo on-line, on t-shirts, in cars, on cars and now, for the first time, on a booth. It's also a great way of getting seen – and getting seen alongside likeminded UK companies. What other stand at the show could play host to a sit down session with none other than F1's Charlie Whiting ("Honesty!").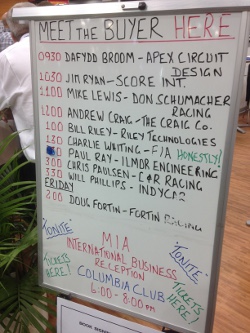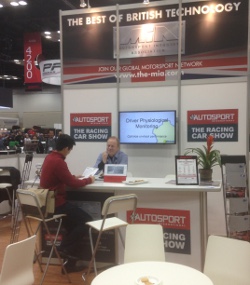 It's the first time we've been back to the US since our visit in May and it was good to meet with new and existing contacts face-to-face. Motorsport is quite unusual in that any member of a team or company might be the person that understands and sees the need for your products; it's not always the boss that knows what's needed.