Details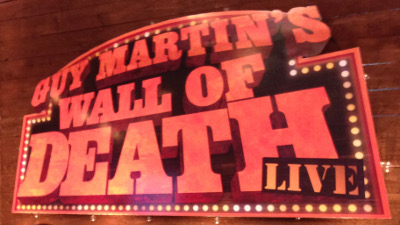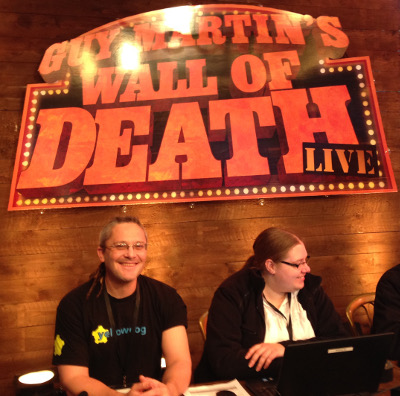 Wall of Death World Record: Guy Martin sets the new world record for the fastest wall of death, clocking a speed of 78.15mph (125.77 kph). The live show was broadcast on Channel 4 on Bank Holiday Monday on 28th March. Yellowcog were there to monitor Guy and the g-forces he was subjected to. If you don't know what a wall of death is then keep reading!
So what is a wall of death? Wiki describes it best but simply put it is a vertical cylinder large enough to ride a motorbike around the interior wall. The bike can ride on the vertical wall due to what we experience as centrifugal force. The reality is that the bike wants to go flying off in the direction it is currently travelling but the wall keeps getting in the way, curving the bike's path around and around. Anything over a few g is enough to stick to the wall. We were taking 100 g-force samples per second so could see how the reality met the physics in this giant science experiment.
The wall was made by upending 47 full-sized shipping containers and arranging them into a circle. The containers were then clad in tons of wood to form a smooth riding surface. In order to get on the wall in the first place there is a 45 degree ramp all the way around. This ramp is used to get up to speed before moving up onto vertical section.
It was a great bit of television, combining fun and danger in equal measures. Guy Martin is always good to listen to, as he calmly describes what he is about to do while everyone else looks on wincing at the thought. We can reveal that Guy Martin's calm exterior is no act. We were able to see his heart rate in real-time and we could see that as he stood waiting to get on his bike before setting off on his first attempt his heart rate was as low as 60 beats per minute! Many people do not have a resting heart rate that low but Guy was on live TV and getting ready to do something that could easily injure him.
Yellowcog were stationed both on the media platform and in the centre of the wall. It was great to be surrounded by Guy's family and friends and to see their reaction each time he went up on the wall. Guy's girlfriend Sharon was excited and nervous in equal measure but after each run Sharon would ask "How fast?" and "What's his heart doing?"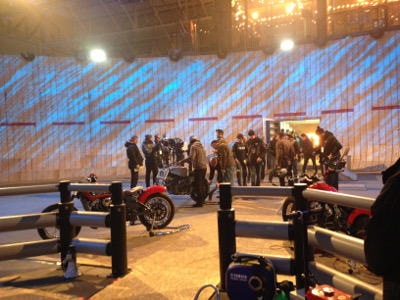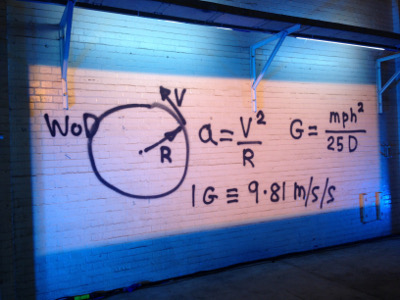 The data we collected (and which was shown on screen) was remarkable – seeing it live with a man on a motorbike whizzing around the wall two foot away brought a sense of urgency to it all too. As expected, Guy's heart rate and breathing increased to match the exertion of riding under such g-loads but we could also see that on each subsequent run on the wall he was relaxing into it and his peaks were reducing – apart from the record breaking run! On the record breaking run the peak while on the wall was as the previous run – but after he began to slow down there was an unexpected but very noticeable increase. Guy knew he had nailed it on the run and the psychological impact was visible physiologically.
The show was produced by North One TV. We have worked with them before (on the Isle of Man TT Challenge) and they brought a level of enthusiasm, teamwork and professionalism that other companies, other industries, would die for. The project itself was huge.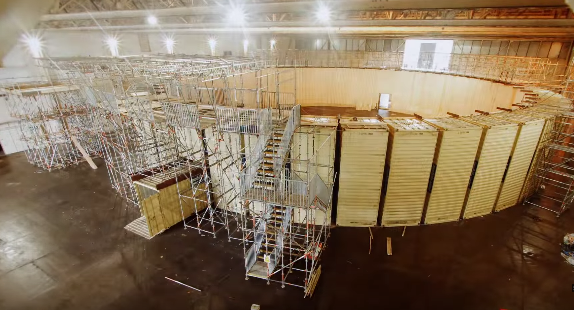 The construction of the wall is the most obvious manifestation but to stage something like this there are so many logistical problems to overcome. I think a good comparison is live sport but there the venues come complete with media areas and facilities; the wall of death however was built in an empty hangar and every single piece of equipment from our small part to the outside broadcast trucks to the lighting rigs and the on-screen talent had to be brought in and combined. The months of preparation finally came together on the day and although people were stressed, the atmosphere was like a festival – lights and sounds and excited people buzzing about! It was an unforgettable experience and yellowcog is proud to have played a part.
Details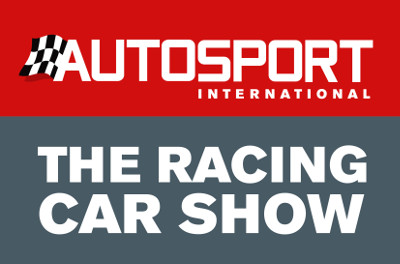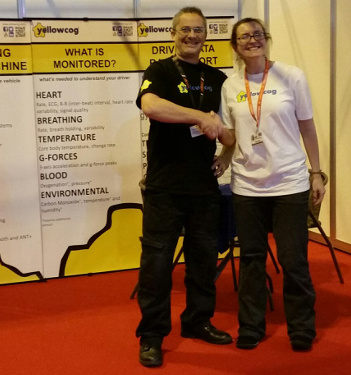 Autosport International was a great start to 2016!
Our stand was well located in the show. We could see across a large area which meant that we too could be seen from far away. As a young company we are not so much advertising via the company name but by what we can do. So we focused on asking if people really "know" their drivers. Few team managers would claim to! That was the message we are trying to get across: there is more to understanding your driver than talking with them about their last race. You need to know if they are physically and mentally pushing themselves. For young drivers this is even more important: dedication to training shows dedication to the track, to the team. We think we did pretty well in getting our products and services across to visitors. It is more than monitoring, it is about understanding and using that information to feed back into the driver and car.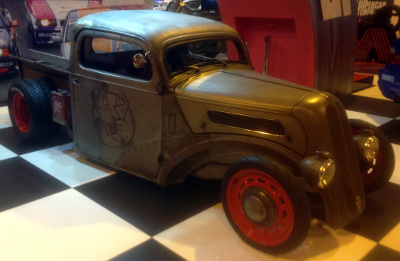 All four of us at times were maxed out with visitors filling our stand, at other times we wondered if anyone would ever stop by again! The show is split into two halves across the four days: trade and public. From our perspective the differences between the halves was minimal. There was so much overlap of trade vs public on Friday and Saturday that we were speaking with new contacts throughout the show.
The most important thing to us is that the industry seems to be switched on to the need for driver monitoring. This needs to be more than just an afterthought of measuring heart rate now and then. It needs a complete picture of drivers from heart rate to body temperature so that teams can start treating the driver as part of the machine.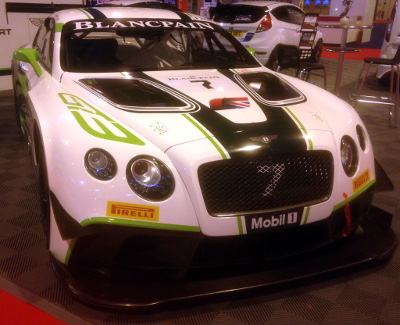 2016 is off to a good start!
Original article from before show: Stand 7158 will be our home at Autosport International 2016 from Thursday 14th to Sunday 17th January, so please come and visit! The show takes place at the NEC in Birmingham (UK) and is the largest European show of its kind. Last year saw over 80,000 visitors across the four days. The show is split into two distinct phases: the first two days (Thursday/Friday) are trade only and include a special engineering exhibition area. Saturday/Sunday are open to all with the weekend hosting a lot of extra events with cars and celebrities from the world of motorsport. Yellowcog will be there for the entire show with our stand dedicated to driver monitoring. We'll be showing the features and benefits of our Pilot™ monitoring system along with how it has already helped our customers gain an advantage over their competitors.
Details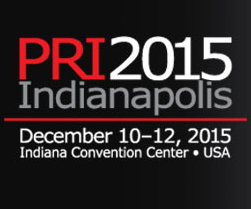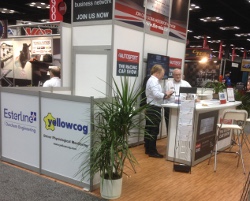 The PRI Trade Show in Indianapolis was a very enjoyable three days. Since we have just become members of the Motorsport industry Association we took the opportunity of joining them on their booth, which we were able to adorn with our own logo and marketing materials. It was a nice feeling walking up to the stand for the first time. We've seen our logo on-line, on t-shirts, in cars, on cars and now, for the first time, on a booth. It's also a great way of getting seen – and getting seen alongside likeminded UK companies. What other stand at the show could play host to a sit down session with none other than F1's Charlie Whiting ("Honesty!").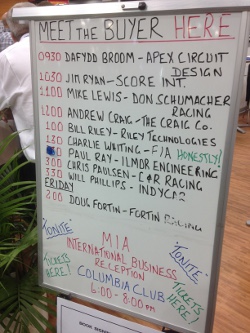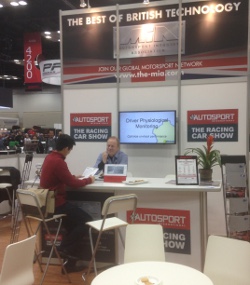 It's the first time we've been back to the US since our visit in May and it was good to meet with new and existing contacts face-to-face. Motorsport is quite unusual in that any member of a team or company might be the person that understands and sees the need for your products; it's not always the boss that knows what's needed.
Details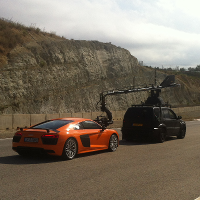 We have been working with Audi over the last few months on their new R8 advertising campaign. The campaign looks at the car and how it influences the mind and body. The main TV advert first aired a few weeks ago and features a close-up of an eye reflecting the street lights through a tunnel (footage was shot in Tunel de Miramar in Barcelona and the on-track scenes are from nearby Parcmotor Castellolí).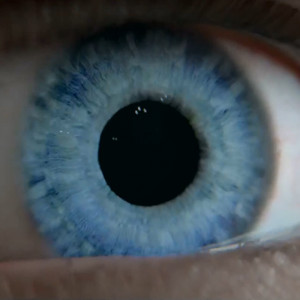 The Physiology. We put drivers and passengers through a whole series of physiological tests. They were tested in and out of the car. We measured many parameters including heart rate, breathing, g-forces, core temperature, oxygen intake, blood pressure and stress levels.
It shouldn't need to be said, but all the physiological data that appears in the R8 campaign videos are completely genuine. For example, in one of the videos there is some in-car footage of a laptop running yellowcog software showing driver and passenger vital signs. This is all being gathered by our kit in real-time and relayed to the laptop. We were also lucky enough to be given a go in an R8 around the full Silverstone circuit, so we could record how we reacted to the Audi too (result: heart rate over 130!).
On Location. Being a technology company is exciting! But being a technology company also means that you have to carry every bit of kit you could possibly need with you. The nice thing about working with motorsport and film crews is that they are in the same situation; there's no popping to the shops to buy replacements.
It is great working with other engineers and seeing how they solve problems from the routine to the unusual. I never knew there were so many ways to stick expensive things to other even more expensive things.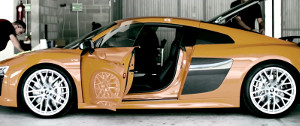 Behind-the-Scenes. I guess once you have everyone gathered on location, the film crew deployed, the R8 polished to a reflective shine then the one thing missing is to "stick him on camera". Such is the way that Marc ended up being filmed for the Test driving the all-new Audi R8 video.
The normal way these things go is that you say everything you can think of and this is edited down to a two-second soundbite; so it was gratifying to find that this video ended up as a very clear overview of how and why yellowcog monitors drivers (and passengers).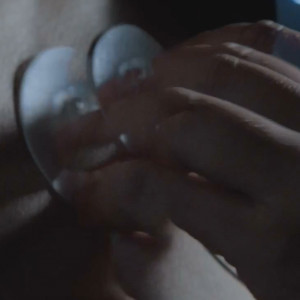 Lights, Camera, Action! We were there for most of the shoots and it was inspiring to see the incredible attention to detail that every shot received. Most of us have watched the behind-the-scenes footage of films but I foolishly did not expect an advert to be given the same level of attention. Of course it needs all that care since it will be seen by a vast number of people many times over. I think the diligence and patience that the crews show must be something they are born with; qualities shared by all good engineers.
Most of the work we did with Audi was, because of the car, shot outside. It was great seeing and listening to the car on-track but it was the indoor shoots that were the most fun. Being up close to a car revving and popping on a rolling road was incredible. One shoot at Black Hangar Studios involved a lot of moodily lit shots. The video is well worth watching, not just for the artistry, but for the glimpse of Marc's fingers about nine seconds in – his first proper acting role!
Details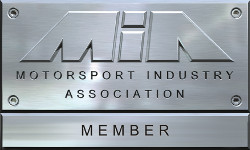 Yellowcog is proud to have become a member of the Motorsport Industry Association (MIA). It is important to us when joining an organisation to know that they are influencers and will add genuine value to our business and brand; the MIA have real-world reach in motorsport and go beyond into other industries.
We are exploring a niche in motorsport; adding to driver safety and creating a culture where driver welfare is an integral part of the racing package. We know this goes hand-in-hand with winning (and winning more) but it is still a complex message to get over.
Having introductions to business leaders allows us to explain our products in our own words and demonstrate how they can benefit potential partners and customers.
Before making our decision to join the MIA, we had already spent a lot of time with them over the last year. Their dedication to bringing people together had already enabled us to build new relationships and extend our reach to new customers. We have been impressed by their professionalism, insight and accessibility and this was a key factor in our decision. Add to this the tight ties to UKTI and CBI and joining became a necessity.
To understand more about what the MIA has already done for us then read our earlier post on the Business Development Trip to the USA. For a UK company to be able to go and meet so many of the world's top teams and influencers and to have this all packed into two weeks was invaluable. This trip was a watershed moment for yellowcog. We met with people at the top of the industry and have since been able to expand our contacts and business in the US. Many more people "over there" now know about us.
Too many groups live in an on-line vacuum; only discussing opinions amongst themselves. Conversely there are many events where people from motorsport and beyond get to meet and build business and this is the space that the MIA occupy: face-to-face introductions, worthwhile discussions, valuable relationships. Motorsport is a highly competitive sector and having the expertise of the MIA is important in competing for business.
Yellowcog has come into motorsport from the medical direction and started designing motorsport specific products some years ago. The challenges in designing for motorsport are numerous and we feel we've more than met those challenges. As a result, we've ended up with a product that can now be used by a wide range of customers almost anywhere.
2015 has been a great year for us and we're delighted to be rounding it off with our trip the Performance Racing Industry Trade Show (PRI) from 10th to 12th December. We will have a presence at the MIA stand throughout the show and are looking forward to meeting some more of our contacts and customers in person. If you are interested in talking to us, just drop by booth 4033 or give us a call.
Details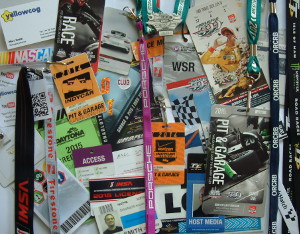 Yellowcog is now five years old. When I founded yellowcog I had no idea what might happen. I knew that I needed to take control of my future; I knew that I wanted to run a company but I didn't, in hindsight, know why. I wouldn't say that it has taken five years to realise but it also wasn't instant.
So, why run a company? And why would I recommend it? I think that it is simple for people (politicians?) to say that we should all aspire to such a thing but I don't agree. Not everyone enjoys having to manage innovation and accounts. I could only start yellowcog because I had got to a point where I had enough experience and I could afford the risk. It is great if a fresher has the knowledge and drive to start a company – some of the biggest today have been started like that – but I think that it is important for engineers to work within a real company delivering real products to learn how things operate. My great privilege was to leave university and go into a solid engineering environment with young and seasoned engineers alike providing the right mix of mad cap and sensible. Once you know how people are doing things then you can, if you think you know better, throw out the rules and innovate. I like innovation, I like invention; but I also like procedure and quality.
Can I call myself an "entrepreneur"? Only after it's been spell checked. I think that it is a loaded word and it is often a synonym for "inexperienced" or "risk taker". I strongly believe that the mantra that to be one you have to fail a few times is wrong. Every failed business has repercussions. Every business takes risks but those must be taken in the context of believing success is realisable. I suspect that many younger people have been given the impression that if you have a good idea you should go and beg a rich investor. This is the opposite of what I believe to be the case; investors are plentiful and we should have the confidence to say that we have something good or important and that we are seeking a suitable investor. A generation is growing up thinking that some Lord will sit as judge and jury on their idea – but ideas are valuable and it is always a sellers' market.
So what's been good? I have met and worked with amazing people. People I have respected for decades: racing drivers, mathematicians, managers, artists, doctors, designers and engineers. We have collaborated with many organisations on many innovative projects and seen solid results. Standing on the grid of the Indy500 looking up at hundreds of thousands of people was an awesome moment; then hearing that the live broadcast using our kit had aired was as good as it gets. To be on the grid working was a hundred times better than being a visitor. It is highly motivating!
So what have we got wrong? We've missed a lot of opportunities, sure. But we have only one unsatisfied customer on our books. We did everything we could, we delivered on time and on budget and to spec but still they were unhappy. Every approach went unanswered. It was not a great experience. It was frustrating to be trying so hard, for our good and theirs, but to be repudiated.
We live in an age where social media dominates not just our lives but also marketing strategies. We always try to let people know what we are up to but a lot of companies need to keep their projects confidential. Sometimes it's frustrating but it makes us happy that we are doing things that are worth hiding.
So, here's to yellowcog, to the founders, to the friends, the projects, the customers, the hardware, the software and the business of building and enjoying business.